The Treasure of Botched Opportunities
August 10, 2022
In a 1994 magazine interview, actor Kevin Bacon mentioned while discussing "The River Wild," that "he had worked with everybody in Hollywood or someone who's worked with them." Following, a lengthy newsgroup thread ran titled "Kevin Bacon is the Center of the Universe." That same year three Albright College students invented the game that became known as "Six Degrees of Kevin Bacon" after seeing two television movies featuring Bacon back-to-back, "Footloose" and "The Air Up There." During the latter film the students speculated on how many movies Bacon had been in and the number of people with who he had worked.
The three proceeded to write a letter to talk show host Jon Stewart telling him that "Kevin Bacon was the center of the entertainment universe" and explaining the game. Fleeting fame followed with the inventors going on to not only release the board game, but a book about their discovery. Although Bacon initially disliked the concept because he thought it mocked him, he eventually came around to laugh along with the ribbing.
In fact he further embraced it by forming a charitable initiative, SixDegrees.org, a social networking service intended to link people and charities to each other.
I don't know Kevin Bacon personally, but he seems like an alright guy. He's been married to Kyra Sedgwick for 34 years, they have a couple of kids, and he fronts a rock, folk, and soul musical group with his brother. Someone who would be interesting to meet, I think.
Recently I was facilitating a corporate retreat. Following a break, I asked members of the group to identify the most famous person they had encountered. For some, it took a while. After a moment, a volunteer shared "Peyton Manning." Another yelled out a racecar driver, Dale Earnhardt, Jr., I believe it was. "Garth Brooks," voiced another.
What would be your response? What was the brush with fame like? Was your heart a flutter like a screaming, fawning teenage girl at a Beatles appearance in 1964 or were you agnostic to the notion of "celebrity?" What does our reaction say about us? And, if given the opportunity over again, what would you do differently?
These so called "famous" people we meet become a part of our story. Though we tend to want to put them on a pedestal, deep down there are elements of humanness and longing for connection.
My friend muffed one opportunity. Some years back, he had upgraded to first class, looked up and recognized immediately who was going to be sitting next to him for the duration of his flight. So starstruck was my usually affable comrade that for two hours he was unable to muster even a hello to fellow passenger, Hank Aaron.
That episode was later remedied while performing production work for ironically a baseball broadcast. For a half hour he was treated to a most intimate and collegial conversation with another legend of the game who regaled him with several stories as if he were an old friend. His new acquaintance, Vin Scully, who left this world a few days back.
During the late spring 60 years ago I was traveling by car with my parents along the vast, hot, and treeless plains of the Texas Panhandle. As a salesman my dad had a "territory" and he took the family along before I began school and later during the summer months. Most of what I recall about those car trips is tedium, boredom, and a lack of air conditioning.
My dad, being a curious mind, had learned that a movie was being filmed in the area and found out that one of the sets was en route to that night's destination. The motor hotel up the road would have air conditioning and promises of a hot meal, and perhaps ice cream, but NO we were going to pull over to this stupid set.
Dad went to the trunk to fetch his favorite Kodak equipment meaning I was likely to be posed for a shot. Yuck! On top of that he had the audacity to approach one of the people on set and inquire as to if he might be available to "take a picture with my boy." By then, hot, hungry, and on the verge of tears, I protested by throwing a tantrum during the shoot. The actor beside me, not to be denied the spontaneity of the opportunity, did likewise. The result was not only my brush with fame, but what many years later has become a treasured heirloom.
The moral is some of our best moments come unexpectedly. Treasure your botched opportunities, even your worst moments. You never know how the brushes with fame will become part of your story.
The Seed Sower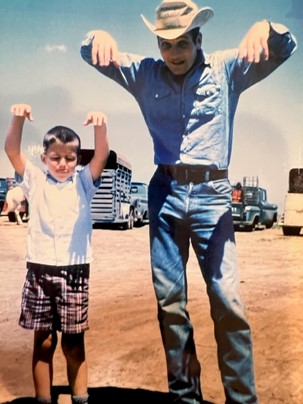 Years before salad dressing and race car driving Paul Newman demonstrates his humanness by mimicking the author's monstrous fit during a break in filming "Hud," June 1962.